There are just certain things you need when mapping out a plan for eating healthy in your home. At the same time, there are certainly things that make more clutter and are really not needed. The items listed below are things I use often and feel I couldn't live without in the kitchen.

1. Apple Wedger/Slicer. We go through apples like crazy at our house and this gadget is perfect for quick and easy cutting. I recommend using organic apples because the regular ones are on the top 10 "Dirty Dozen" list for pesticide exposure. Leave the peel on for added fiber, but more importantly for the chemicals responsible for making it anti-cancer, specifically breast and lung.

2. Food Processor. This appliance is great for drastically cutting down time prepping for home-cooked meals. From grating carrots, chopping onions to grinding spices and making pesto or this hummus recipe. I couldn't live without my food processor.
3. Cast Iron Skillet. The benefits from using cast iron over non-stick are boundless. As you cook with cast iron, the dietary source of iron dramatically increases, especially with foods that are high in acid such as tomatoes. When seasoned well, it works just as well as a non-stick pan, but without all the harmful effects of Teflon. Cast iron cooks food more evenly and holds the heat longer than other cookware. They are very sturdy and versatile too and can be used in the oven for something delicious like this veggie frittata.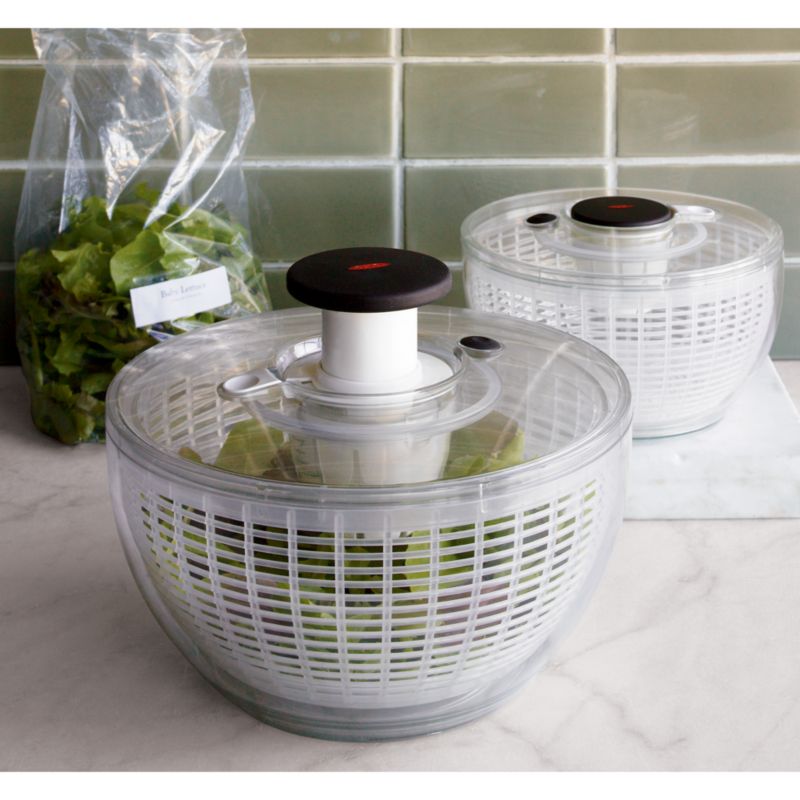 4. Salad Spinner. If you are trying to eat healthy, then green, leafy vegetables will be in your fridge often. It is important that they are thoroughly washed and dried before you eat them... nobody likes wet and heavy lettuce. A salad spinner is a great companion in your kitchen for this reason. It is also handy when cleaning berries and fresh herbs. After you are done with the spinner, it can double as a container to keep your produce fresh in the fridge until you're ready to use it.

5. Blender. My blender is out almost everyday making delicious, healthy smoothies for my family. I definitely could not live without it. I don't have the best blender, but it certainly does the trick. If you have the means, I recommend a Vita-Mix or Blendtec blender.

Honorable Mentions:
1. Fruit and Veggie Wash. If you buy organic, it is still important to wash your produce when you get it home. Even if it has been handled carefully, the produce can still manage to obtain harmful bacteria or bugs. If your produce isn't organic, it is imperative to get it as clean as possible and this spray does a great job.

2. Mango Slicer. Just recently our family has become addicted to mangoes. There are so many wonderful health benefits in eating mangoes you can read about here. Mangoes can be difficult to cut because they are usually very juicy and become hard to handle. This slicer is a must-have for mangoes.
3. Fusion Brand Poach Pods. Eggs are such a healthy way to start your day, especially if they are farm fresh. These little lily pad shaped pods are a perfect way to make poached eggs. No, they are not exactly essential, but they make cooking poached eggs a little more fun.

4. Bamboo Cutting Board. Bamboo grows at a rate of one foot per day making it one of the most sustainable plants in the world and more durable than wood. Using a bamboo cutting board will help cut down on the risks of bacteria because it absorbs very little moisture and does not get deep grooves like plastic cutting boards do.
So there's my list... what are your must-haves? I need to know!