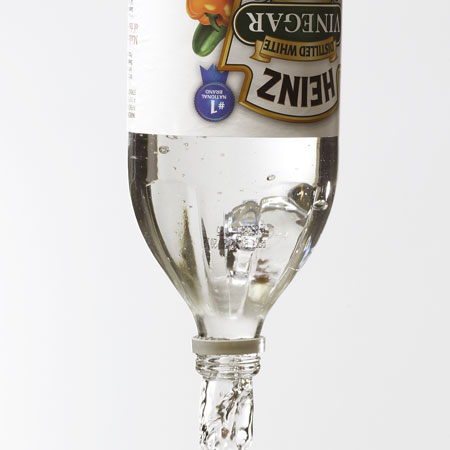 I love vinegar... do you? It's really a crazy phenomenon in my home. I use it now for just about everything I clean... windows, baseboards, hardwood floors and carpets, and as a fabric softner and general household cleaner. To me, it's quite magical!

I really try to stay away from most chemicals in my home when it comes to cleaning. And my motto is... if it smells good, its definitely not good for you. From fabric softener to pretty outlet smellies... they are made with toxic chemicals that we either absorb through our skin or breathe into our lungs.
Someday I will share with you about my journey and now passion for health and wellness. I'm still trying to figure out how to shorten it ~ its written out, but becoming a book... maybe a two-part series? But anyways, I hope you will take my word for now that using chemicals in your home to clean is not good... especially for children... they are the most vulnerable.

Ok, so now back to vinegar... it is the most versatile, non-toxic and inexpensive cleaner out there. It disinfects, cuts grease, cleans and removes stains. If it is mixed properly, you won't even smell too much of the vinegar either. Here are some of the unique ways I use it.
Dishwasher ~ I fill my dishwasher rinse aid compartment with vinegar. It helps to remove hard water and soap build-up. It also helps to keep the dishwasher clean and running good.

Fabric Softener ~ Did you know there are up to ten toxic chemicals found in fabric softener and/or dryer sheets? One chemical is actually on the EPA's Hazardous Waste List... read more here. Who cares about the "spring fresh" smell when such chemicals are linked to pancreatic cancer, allergies, central nervous system disorders, and a compromised respiratory system. All you need is a little vinegar ~ about a half cup in the rinse cycle ~ and it will soften and help with static issues AND be naturally safe for your family.
General Household Cleaner
~ I use this chemical free, all natural vinegar cleaner on just about anything... windows, toilets, sinks, stove, baseboards and as a stain remover on clothes. Its even great on pet odors and stains. Here's the recipe... 1 part vinegar to 1 part water... 2 tsp of all natural dish soap and 10 drops of
tea tree oil
(a natural antiseptic) in a 24 oz spray bottle.
What magical ways do you use vinegar in your home?
Happy (and Healthy) cleaning!